Ofsted
RECENT INSPECTION:
Please click here for the Ofsted Inspection report for the inspection that took place on the 19-20th November 2019.
PREVIOUS INSPECTIONS:
Section 5 Inspection of our Academy on 9 October 2018.
Alternatively visit www.ofsted.gov.uk by clicking on the link below.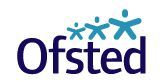 Click on the link below to tell Ofsted what you think about our Academy!